Recipe Time
Courgette Loaf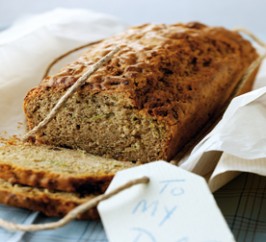 Ingredients:
227g/8oz caster sugar
3 eggs
227ml/8floz vegetable oil
1 tsp vanilla essence
227g/8oz grated courgettes (unpeeled)
340g/12oz plain flour
1tsp baking powder
1tsp bicarb soda
½ tsp salt
1 level tsp ground cinnamon
¼ tsp grated nutmeg
85g/3oz walnuts, roughly chopped (optional)
Preheat the oven to Gas 4/180C/350F
Whisk together the sugar, eggs, oil and vanilla until thick.
Stir in the grated courgettes
Sift the dry ingredients into the bowl, then add the nuts (if using).  Stir well.
Spoon into a 25x18cm/10"x7" buttered tin (or, I use a 2lb loaf tin).
Bake in the oven for 40-45 minutes (nearer 60-75 minutes if using the loaf tin), or until a skewer inserted in the centre comes out clean.
Allow to cool in the tin for 30 minutes, then transfer to a wire rack to become completely cold.