Recipe Time
Cheesecake with strawberries and balsamic vinegar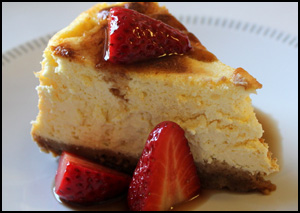 Ingredients
Shortbread biscuits (to be crushed) no need to be the expensive ones
100g unsalted butter
1 tbsp clear honey (runny) a bit more or a bit less is fine
1 tbsp icing sugar (sifted)
1 tsp vanilla extract
500g-mascarpone cheese
Topping glaze
2 tbsp clear honey
1 tbsp balsamic vinegar
400g strawberries
4 small or 1 large loose removable base tin
Method
Crush the biscuits in to crumbs, Heat the unsalted butter and honey together in a pan and when melted and mixed add the biscuit crumbs, stir well.
Use 4 metal rings to make small ones, or a 7" or 8" cake tin, divide the crumb mixture between the rings or large tin, press down evenly and firmly, this makes the base.  Set aside
In a bowl mix together the sifted icing sugar, vanilla extract and mascarpone cheese. Spoon mixture on top of the biscuit base and smooth over. Leave to set in the fridge for 5 –10 minutes
Gently warm the honey and balsamic vinegar together and set aside.
To serve, place the cheesecake(s) in the centre of the plate(s) and remove from tin, decorate the top with strawberries and spoon over the honey/balsamic glaze.
If you want to spoil yourself double the ingredients (except the strawberries) and use a very deep cake tin still with a removable base, you might have to put greaseproof paper on the inside to get the cheese cake out but well worth the effort, defiantly one to take to friends if your bringing the dessert. Eat, enjoy