Recipe Time
Honey Glazed Gammon: A delightful honey-rich glaze that is perfect for adding flavour to your ham.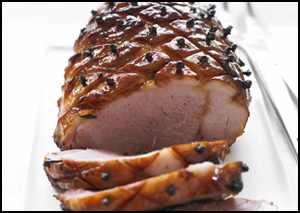 Ingredients:
1.35kg (3lb) corner or middle gammon joint
cloves
grated rind and juice of 1 orange
45ml (3tbsp) clear honey
Oven 200C/175C fan/ 400F / gas 6
Directions:
Place the gammon in a large saucepan and cover with cold water. Bring slowly to the boil then discard the water and rinse the joint. Covert with fresh cold water and bring to the boil again. Reduce the heat and cover the pan then simmer very gently for an hour.
Carefully drain the gammon (you can always keep this liquid for making soup), then let the ham cool a little while you heat the oven to 200C/175C fan/ 400F / gas 6. Lift the ham into a roasting tin, then cut away the skin leaving behind an even layer of fat. Score the fat all over in a criss-cross pattern, then stud cloves all over the ham.
Mix the orange rind and juice with the honey and pour this over the joint, brushing the liquid over the sides as you do so. Bake for about 30-40 minutes or until the fat is golden brown. Baste the gammon frequently during cooking. Serve hot or cold. If serving the joint cold, continue to baste it with the glaze as it cools.